Parents' guide to social media and IM apps
8min read
It seems that almost every week there is a new app or website that kids are using to IM (instant message) each other and it can be hard to keep up. It's important for parents to know how these work, and how old your child should be to use them, usually 13 or over, to help avoid cyberbullying and sexting.
It's important to talk to your child about what is and is not appropriate to share online and the consequences sending inappropriate messages, images and videos. As most of these apps can be used free of charge, it can be even more tempting for young people to send images or videos free of charge. It is important to ensure they know what to do if they receive bullying messages or images that are inappropriate, such as letting a adult know, deleting and blocking the sender, etc.
There are also some basic rules to talk to your child about such as not using your real name on your profile when it is available publicly, never adding your location to your messages or photos, never giving out personal information and never accept a follower or friend who you don't actually know in real life.
Social media apps
Snapchat
Snapchat is a free app where you can take a picture or video and send it to your friends. Kids like it because the image isn't permanent and because it feels spontaneous. You get to decide how long a photo will "live," from 1 to 10 seconds, after it's viewed. It's important that users realise that this doesn't mean the image can't be captured by the receiver by taking a screenshot or other method. Unlike social network sites and other photo-sharing apps, you can't post publicly. You can only share with friends and you get to decide who to share with each time you send a photo.
Snapchat runs on iPhone, Android, iPad, Android tablets and iPod Touch. You have to be age 13 or over to use Snapchat although they offer a limited version called Snapkidz which allows images to be created but not sent or received. Once you have set up an account, by default, anyone who knows your username or phone number can send you a message.
You can configure Snapchat to only accept messages from users on your "My Friends" list in the settings menu in the application, select "Who can send me snaps...", then select "My Friends" instead of "Everyone."
Snapchat has developed a new feature called Snap Map which can show your location. It is very important to turn this feature off so you are able to keep safe. Snap Map tracks your current location and places your avatar on a map like a pin. This can allow others to zoom in and find exactly where you are. It doesn't take effect until you update the app, and it has an opt-out option. If you're opening the app for the first time after the update, Snapchat will walk you through a step-by-step tutorial on how to use the Snap Map. First, it'll show you how to pinch and zoom in the camera tool to access the map. Then, it'll ask who you want to see your location. You get three choices: all your friends, select friends, or only me. Choosing 'only me' activates what it calls 'ghost mode' meaning you can see others but they can't see you. To turn off location data altogether, you'll need to visit your phone's settings where you can scroll down to Snapchat, click on 'location', and choose to never share.
Snapchat streaks is when you send direct snaps back and forth with a friend for several consecutive days. The longer you go without breaking the chain of communication, the longer your streak is. Snapchat rewards longer streaks with special emojis, such as the "100" emoji for streaks lasting 100 days. Many young people can get obssessive about this and spend a lot of time keeping streaks alive. To them, there is nothing more devastating than losing a streak they have put months of work into. It has been reported that young people get very anxious if they haven't done their 'streaks' and it can cause great stress. It is important to talk to your child about this in detail so they understand that this virtual world can end up impacting on their emotional health and real world.
To block a user, tap the Menu icon, select "My Friends," locate their name in the list and swipe right across their name (or in Android, long-press the name). Press "Edit" and then "Block." If you would like to delete a friend from your contacts, press "Delete." Even if you haven't added the user as a friend, their name will still appear in the "My Friends" list under "Recent" if they have sent you a message recently.
If a child receives inappropriate photos or someone's harassing him or her, contact Snapchat via safety@snapchat.com or by going to Snapchat.com and clicking on Support. You can delete the account as long as you have the username and password. If you wish to delete the account and your child won't give you his or her password, you can submit a deletion request. You can read Snapchat's terms of use, privacy, guide for parents, information on reporting abuse.
Instagram
Instagram is a photo editing and sharing 'app' that allows users to edit photos taken on their phone and post them to Instagram, Facebook and Twitter with the click of a button. Instagram photos are open to the public by default and Instagram lets users browse public photos posted by others and by people whom they follow. You have to be over 13 to use Instagram.
This started in 2010 as a photo-sharing platform viewable only amongst its user base. In April 2012 Facebook acquired Instagram and its use has since exploded. Now those photos can go almost anywhere and you can browse through all of them in a few brief moment by going to Instagram.com/[USER NAME ].
Once an Instagram profile has been created, anyone can browse them and follow other Instagram users. There is an option to make an Instagram profile private, and similar to Facebook, users have to send a request to connect to that person. Ensure that the photo sharing is set to private as this will prevent the photos from going out publicly where anyone can view them. You can set the privacy setting through the Instagram interface by going to settings and scrolling down to the setting labelled "Photos are Private" or " Photo Privacy" and ensuring it is turned on. Work with your teen to select an appropriate profile photo that you can both agree on. It's best to avoid using an actual photo of your teen and instead find something that best represents your teen or their interests. Turn off the Geo-tagging or Location of photos, that way even if a photo gets out to the public, hopefully no one knows where your child is. Read Instagram's privacy policy.
Whatsapp
WhatsApp Messenger lets teens send text messages, videos, photos, and short audio messages to one or many people with no message limits or fees (after paying for the app). Messages can only be sent to other smartphone users who also have WhatsApp. Once you install the app, it checks your address book to see if anyone else you know is already using WhatsApp, and connects you automatically. You have to be over 16 to use Whatsapp legally. There are ways to send messages anonymously so it is always essential to make sure you talk to your child about what is and isn't appropriate to send and receive.
You can read more about Whatsapp's functions, and terms of service.
Musical.ly
Musical.ly is a social media app that encourages users to post videos with a musical backdrop. Users film themselves lip syncing to songs, dancing or performing comedy videos. They can edit their films, add filters and then share them either with friends, keep them private or for all to see. It is for young people aged 12 and over and some of the music does contain parental advisory lyrics.
If the profile is not set to private, strangers can leave comments on videos and also be contacted privately. Therefore, it is important to ensure that settings are on private mode. Turn off location settings too and check through all settings to ensure that your child can go on this app safely. If anyone does receive an offensive comment, they can block the sender and report the comment. To block, they need to go to the person's profile and in the upper right corner click on the 3 dots. Here they can choose to "block this user" and "report abuse." If reporting and blocking does not work, kids can take a screenshot and send it to info@musical.ly.
Once a child opens an account, they cannot delete it. At present, Musical.ly does not allow any users to delete their account but this could be a change in the pipeline. In the meantime, if you do have a child under 13 on musical.ly, parents can contact musical.ly directly. According to their terms of service, parents can report their child's account to musical.ly by sending an email to privacy@musical.ly. If the child is under 13, they will promptly take steps to delete personal information and terminate the child's account.
BlackBerry Messenger (BBM)
BBM allows anyone who has a Blackberry to connect to one network, share information and chat with friends in real time. It is an always-on application and does not require a whole load of battery power to run, although you need to pay and be connected to the Blackberry server to have access to it. BBM is free to use, which means that unlike text messages, there is no charge regardless of how many messages are sent – or for picture messages. Unlike normal text messages, BBM messages can be sent free to a number of people at once, allowing large group conversations.
Meow Chat
Meow Chat is an app that is increasingly getting popular amongst young people and it is a messaging service like Whatsapp that allows you to swap text and picture messages with friends and meet up with strangers. It will ask to connect to your Facebook account so it can access your friends lists, amongst other things and will then send mass invites to your Facebook friends. If you click on 'Random Chat' it allows you to go into a random chat room where you can talk openly with the purpose of moving conversations to private messaging. There is also an 'Explore' feature to see what people nearby are up to and see their pictures and like Facebook they can be liked and commented on. With any type of open chat platforms, you never know who you are really speaking too which can leave a teen vulnerable and exposed to content that is adult. You have to be over the age of 13 to use this app. You can read more about their terms of services and frequently asked questions. You can email them for further questions on help@meow.me.
Anonymous social media apps
Whisper
Whisper is a new social media app which allows users to post snippets of information anonymously to another user or group of users using images from the app and creative fonts. It allows users to respond anonymously to other anonymous 'whispers'.
While Whisper is 100% anonymous, users are still able to comment on or like other Whispers, as well as receive private messages from other users. Users can also share their location with others. It is a free app. The app is rated 17+ so children under that age should not be using it. It has been described as being like Facebook, but anonymous.
You can read more about Whisper's privacy policy, legal information and information about how to block another user. You can report any online harrassment or bullying to their support team.
Yik Yak
Yik Yak is another new social media app which is gaining popularity starting in the US and now in the UK. It describes itself as a 'local bulletin board' for sharing information and connecting with others in your area (within a 1.5 mile radius), without having to know them. Users are limited to posting 200 characters but no images. The app is rated 17+ so children under that age should not be using it. The app is free to download but has in-app purchases.
To help prevent Yik Yak being used to cyberbully, Yik Yak has a 'geofencing' option where you can request for access to Yik Yak to be banned in a certain area. Some schools and colleges in the US are using this blocking method due to issues with students misusing the app.
Read Yik Yak's legal information, how to report content and how to geofence Yik Yak.
Secret
Secret is another anonymous social media app allowing users to share 'secrets' such as what you are thinking or feeling using words and images with your friends. When you post a 'secret' it is delivered anonymously to the people in your contacts list who are also on Secret - the app uses their email address and/or phone number to find your connections. These people can view, like, and comment on your post. If a friend likes your secret, it will be shared among their friends so secrets can spread. The app accesses your contacts list to find out who your friends are but there are no names or profiles displayed on the posts.
You can see how many friends you have also on Secret but you won't be able to see their identity. Once you sign up, you have to have at least three friends also on Secret before the app will publish your post, this is to ensure your anonymity. All posts are encrypted so that not even the team behind this app know who is posting.
Secret has just launched in the UK having started in the US. The app is free to download and is rated 12+. When you sign up, the app asks for your email and phone number which allows you to see secrets from friends.
Read Secret's privacy information, and FAQs including information on how to report a comment and block another user.
ask.fm
Children should be over 13 to have an account on ask.fm. People join this site and then others can ask them questions (this can be anonymously). All too often people use the site to ask inappropriate questions or post sexual comments. Anything posted is visible publicly and you don't really have any control over where else this information can appear.
You can change whether you allow people to ask you questions anonymously in your privacy settings. If someone asks a question you don't like or think is inappropriate or they are bullying, you can block that user so they can't contact you again. It is important to talk to your child so that they know how to do this and let them know to tell you about any abuse or inappropriate comments. There is also a 'report abuse' button.
Essentially if your child is on this website there are no restrictions about the type of content they are seeing so we would recommend you maintain a close eye on what your child is doing online and talk to them about the dangers of posting information about themselves.
You can read more about ask.fm's privacy policy, terms and conditions and safety tips.
Further support
West Mercia Police have produced informative advice sheets on what to do if you are being bullied online. The advice sheets are for young people and adults.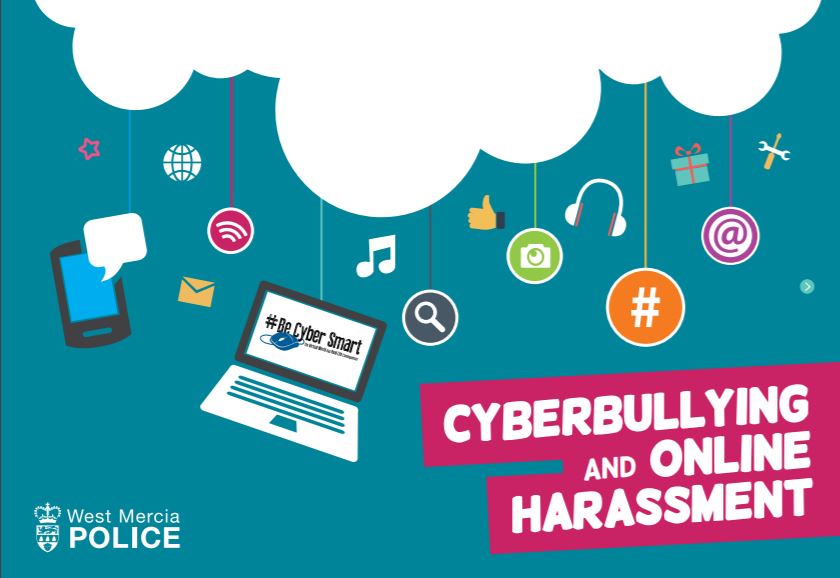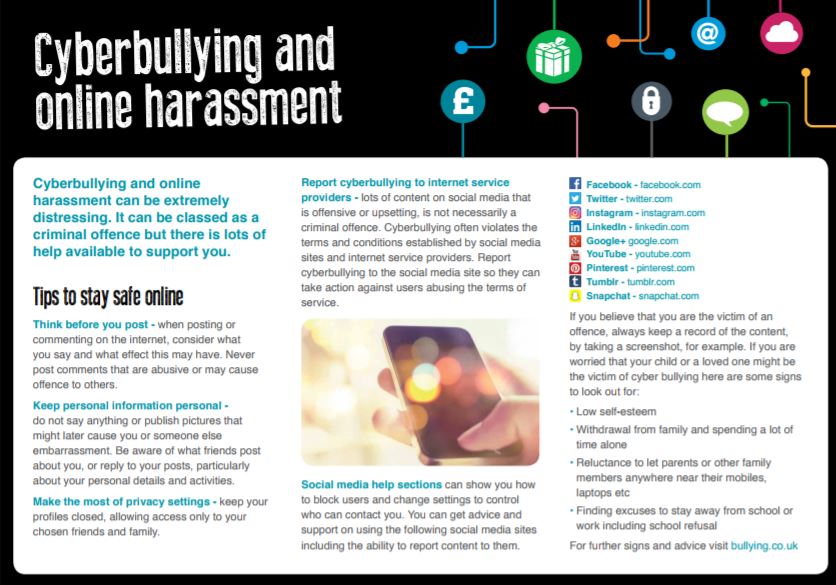 This page was updated on 4 July 2017